Massive Platform
IMPORTANT ANNOUNCEMENT (25 August 2022): Massive Platform is no longer being maintained. We started the project in 2014 and built some amazing communities with it, creating hundreds of thousands of real-world, in-person connections at events all over the world. In 2021 we rebuilt Travel Massive with a new, modern web framework and chose Phoenix LiveView. Thanks to everyone who supported Massive Platform over the years. ~ Ian (founder, Travel Massive & Massive Platform).
Massive Platform is a community platform to build and grow event-driven, chapter-based communities.
---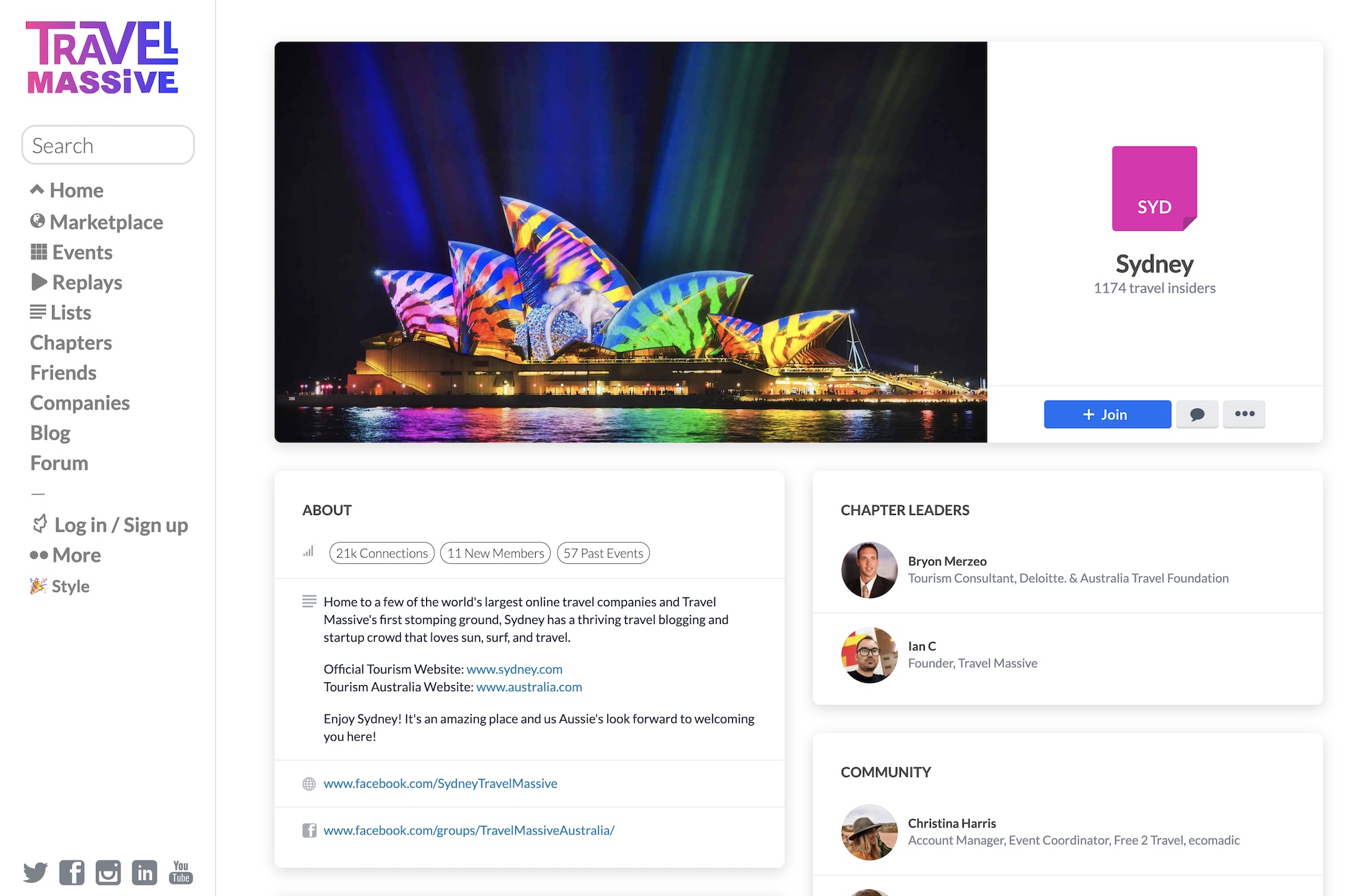 Frequently Asked Questions
What communities use Massive Platform?
Massive Platform powered Travel Massive, Mappy Hour, Hardware Massive, and The Nomadic Network — connecting more than 100,000 members both online and offline in places across the world. Massive Platform powered more than 4,000 events in 80 countries.
Who created Massive Platform?
Massive Platform was created by Travel Massive's founder Ian C (@travelvc). Massive Platform is developed with the mindset that communities should be free and open.
Why does this platform exist?
Massive Platform is inspired by Creative Mornings and meetup.com, and is an open-source platform unlike Bevy and Mighty Networks which are closed-source and own your data.
What features does the platform provide?
Features provided by Massive Platform include: profiles, chapters, events, livestreams, business pages, lists, matching, newsfeeds, search, payments, announcements and much more.
How do you decide what features to develop?
Massive Platform is built with a pragmatic design philosophy. We build only the featurures that we need, and nothing more.
How can I use Massive Platform?
To use Massive Platform, you'll need your own hosting and someone technical to help set it up.
What is Massive Platform built with?
Massive Platform is built on top of Drupal 7 (PHP 7.2, MySQL, nginx, etc) with a modular, best-practices approach that provides stability and scaleability.
Additional credits
A big thanks to everyone who has contributed their feedback, ideas, and testing!
Travel Massive Chapter Leaders - feedback and testing with Travel Massive
Sarah Knapp - feedback and testing with Mappy Hour
Berkeley Sourcing Group - feedback and testing with Hardware Massive
Flipside - initial project design, HTML theme and prototype created in Lisbon.
Robyn Stanley and Ryan Cross for pre-release support.
Dean Rollins for newsfeed emails and search sort
OrionVM for their fast, scalable cloud hosting
Licensing
If you are planning to use our platform in the travel industry, please contact Travel Massive.
Drupal is released under the Drupal License (GPL).
The Travel Massive name and logo is trademarked and can not be used.
Sample data such as profile images may also be subject to copyright by their owners.